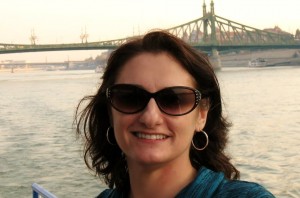 Angela Stover is an advanced doctoral student in the department of Health Behavior at UNC Gillings School of Global Public Health. Angela's research interests focus on the measurement and application of patient-reported outcomes (PRO) to improve cancer care. At UNC, she has been involved in the design of PRO measures for use in cancer care delivery settings and in the study of the impact of cancer and its treatments on the lives of people with cancer.
Under the direction of Drs. Chris Rini (Health Behavior) and Bryce Reeve (Health Policy and Management), Angela's dissertation will model trajectories of patient-reported physical activity and sedentary behavior over 10 years following breast cancer diagnosis. She will also examine health information processing mediators by breast cancer treatment type (radiation, radiation+chemotherapy, surgery alone).
Prior to becoming a Tarheel, Angela was a senior research coordinator for 12 years at the University of Pittsburgh coordinating NIH-funded grants such as the Pittsburgh site of the Patient-Reported Outcomes Measurement Information System (PROMIS, U01 AR052155). She obtained a master's degree in research methodology from the University of Pittsburgh and bachelor's degrees in psychology and sociology from Westminster.
Angela is a Steelers fan and likes to travel in her spare time. Some of her favorite places include Budapest and Athens.