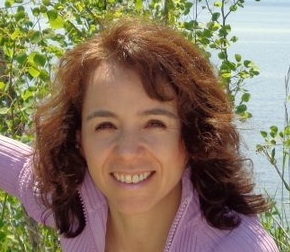 Mónica Pérez Jolles recently completed her doctoral degree in Health Policy and Management ,and a pre-doctoral fellowship in Health Services Research at the Cecil G. Sheps Center, UNC Chapel Hill. She will continue with a post-doctoral fellowship this fall. She is interested in service practices aimed at increasing minority patient engagement, such as participatory decision-making, and their impact on health care service use. Currently, Mónica is involved in a PCORI-funded research project, led by Dr. Kathleen Thomas, looking at the impact of parent activation training on children's use of mental health services among Latino families.
She is also examining the impact of co-occurring mental and chronic physical illness on patients' use of mental health services. In addition, her research has focused on the organizational and managerial context of child welfare agencies as these agencies have become a main source of health care service referrals for vulnerable families. She is interested in mixed methods and community-based participatory research.
Mónica is originally from Colombia, South America, and currently resides with her husband Erik in Durham, NC. Outside of her work, she enjoys running, swimming and traveling.