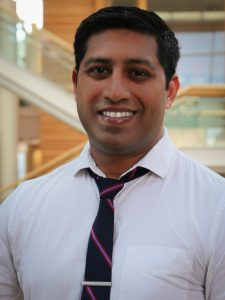 Parth Shah is a pharmacist and PhD candidate in Health Behavior at UNC Gillings School of Global Public Health.
Parth grew up in Los Angeles, CA, and received his BS in biochemistry from the University of Southern California in 2008. He received his PharmD from the USC School of Pharmacy in 2012 before beginning the PhD program in Health Behavior here at UNC. As a student pharmacist at USC, Parth was a graduate research assistant for a research team conducting a behavioral economics intervention aimed at reducing inappropriate antibiotic prescribing.
Currently at UNC, Parth's research interests are broadly focused on medical decision making and health care delivery of cancer prevention and treatment. His doctoral dissertation aims to investigate various intrapersonal, provider, and structural factors that are important for pharmacies to improve their utility as adolescent vaccination settings, especially for HPV vaccination. Other research interests he plans to pursue include end-of-life decision making and quality improvement in palliative care.
During his time at UNC, he has primarily worked with Dr. Noel Brewer at the UNC Gillings School of Global Public Health and Dr. Betsy Sleath at the UNC Eshelman School of Pharmacy.