Related Stories
Domino and colleagues explore rural psychologists and education programs in new Journal of Rural Health article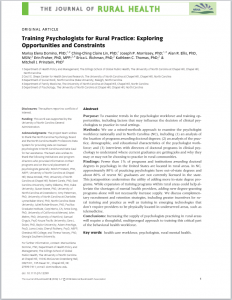 New research published in the Journal of Rural Health examines trends in the psychologist workforce, training programs and factors that may influence decisions to practice in rural areas.
Marisa Domino, with colleagues in the Program on Mental Health and Substance Abuse Services and Systems and the Program on Health Workforce Research and Policy, led a study to examine trends in the North Carolina psychologist workforce. The analysis was conducted at the request of the UNC System and was aimed at identifying the factors influencing whether clinical psychologists to practice in rural areas.
The authors found that
Fewer than 1% of doctoral psychology programs in the US are located in rural areas.
In NC, approximately 80% of practicing psychologists received their degree in other states and nearly 80% of recent NC graduates were not currently licensed in the state.
Expanding training programs in rural areas could help address shortages of mental health providers. Other approaches, such as enhanced recruitment and retention efforts and training in emerging technologies like telehealth, may offer additional strategies for improving access to mental health care for rural populations.
The UNC System used this work in evaluating the need to expand clinical psychology doctoral programs in North Carolina. In March 2018, the UNC Board of Governors granted approval to Appalachian State University to develop a new Doctor of Psychology (Psy.D.) program, with a primary goal of training students in clinical psychology to serve rural populations. The new program plans to admit students beginning in the fall of 2019.
Citation: Domino ME, Lin CC, Morrissey JP, Ellis AR, Fraher E, Richman EL. Training psychologists for rural practice: exploring opportunities and constraints. Journal of Rural Health. 2018 April 17. doi: 10.1111/jrh.12299 [Epub ahead of print]