Related Stories
Fraher presents to federal health policy staff at the National Health Policy Forum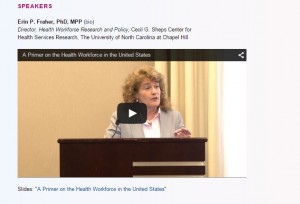 Erin Fraher, PhD, MPP and director of the Sheps Center Program on Health Workforce Research and Policy, was an invited presenter at the National Health Policy Forum briefing on the Health Care Workforce in February.
The National Health Policy Forum seeks to contribute to a better-informed policymaking process by providing information and opportunities for dialogue for federal health policy staff.
Fraher gave two presentations during the briefing, "A Primer on Health Workforce" and "The Workforce Needed to Staff Value-Based Models of Care." Video and slides from both presentations are available here via the NHPF website.