The North Carolina Health Professions Data Visualization Tool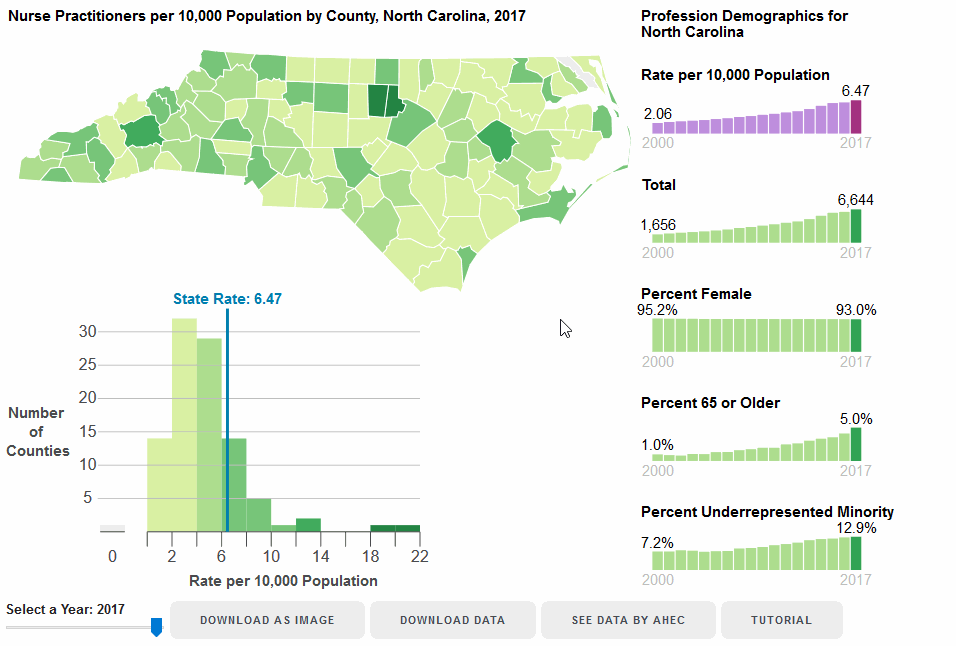 Background
Since 1979, the North Carolina Health Professions Data System has collected annual data on 19 licensed health professions. The new North Carolina Health Professions Data Visualization Tool contains the most current data on NC health professions, as wells as annual historical data through 2000. The tool allows users to visualize, query, and download health professional counts by county, ratios per population, and demographic information.
The web tool is designed to provide users access to licensure data to help them make informed decisions about the education, recruitment and practice of health professionals in NC. For example, users can analyze maps to determine counties where there are no actively practicing health professionals with a primary practice location in that county. Bar graphs identify growth in the numbers of health professionals over time. Users can compare trends in diversity across professions. The aggregate data are available to download for independent user analysis, and maps are available to download for use in presentations, reports and social media posts.
This initiative is funded by the North Carolina AHEC Program and supported by the 11 participating licensing boards in the state.
Direct link
http://nchealthworkforce.unc.edu/supply
Data notes, source
Data in the tool include active, licensed health professionals practicing in North Carolina as of October 31 of each year. For physicians only, data include active, licensed physicians practicing in North Carolina who are not in residency training and are not employed by the Federal government. County counts are based on primary practice location. Some providers may practice part-time in additional locations not shown in primary practice location counts. Data are prepared by the North Carolina Health Professions Data System at the Cecil G. Sheps Center for Health Services Research and are derived from licensure data obtained annually from 11 participating health professions licensing boards.
Technical notes
The tool was developed using the D3 JavaScript library.
Project Lead: Julie Spero
Lead Developer: Evan Galloway
Data Programmer: Jim Terry
We need your feedback
Please send questions, error reports or suggestions to hpds_online@unc.edu. Have you used the NC Health Professions Data Visualization Tool for your work? Please share your story with us. We look forward to hearing from you.