RWJF Nursing Workforce Research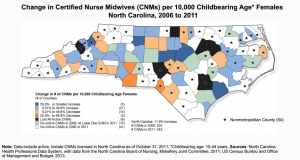 The goal of this Robert Wood Johnson Foundation project was to develop local, state and national capacity for evidence-based nursing workforce policy. This goal was well-aligned with Key Message #4 of the Institute of Medicine's Future of Nursing report, which identified that "effective workforce planning and policy making require better data collection and an improved information infrastructure."
The timing of this work was critical because the rapid pace of health reform has stakeholders in and outside nursing questioning whether the workforce is prepared to meet the needs of a transformed health system.
Some notable work under this project included
A set of three briefs providing guidance on developing better state-level nursing workforce data systems (http://www.shepscenter.unc.edu/workforce_product/nursing-data-system-briefs-inqri-2/)
How many nurse practitioners are in primary care? It depends on how you count them. NPs can be classified as primary care based on education, practice specialty and practice setting. Each method results in a different picture of the NP workforce in North Carolina, California and the United States.  This work was published in Medical Care Research Review.
New roles of nurses across the care continuum: Rather than focusing on the overall supply of nurses, we are looking at the content of care that nurses provide in a transformed health system. See our policy brief.
This project was funded through the Robert Wood Johnson Foundation's Interdisciplinary Nursing Quality Research Initiative (INQRI) from 2012-2017.