Related Stories
NC TraCS Offers New $2K Voucher to Support Stakeholder Engagement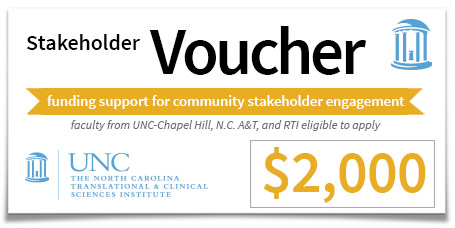 The engagement of patients and other healthcare stakeholders is a critical part of translational research, and yet many scientists and clinicians find it difficult to interact with the world outside the ivory tower. Thankfully, they don't need to go it alone. NC TraCS established two Community Advisory Boards (CABs) in Greensboro and Wake County to help increase research collaborations between community organizations and UNC researchers. These CABs tout representation from 17 NC counties and a broad spectrum of stakeholders that include health care providers, community advocates, business representatives, policy makers, and members of the faith community.
The CAB consultation service has been available for years, but now a new voucher program can reduce the expenses associated with seeking its help. NC TraCS provides vouchers in the amount of $2,000 to assist clinical and translational researchers who want to implement a proposed study to move a research project forward, by providing rapid access to funds that will support almost any aspect of promising and innovative research.
"We created the voucher program to encourage investigators to seek stakeholder engagement, both when they are crafting a research proposal and also while they are in the middle of the implementation process," said Melissa Green, MPH, former administrator director of Community Academic Resources for Engaged Scholarship (CARES) at NC TraCS. "Any project that requires community engagement could benefit from our service, including population-based research, clinical trials, and patient-centered outcomes research."
For more information
For more information on the TraCS $2K Stakeholder Engagement Voucher, please visit: http://tracs.unc.edu/index.php/services/pilot-program/stakeholder-engagement-voucher
The next due date is April 19, 2016. The submission guidelines are available at: http://tracs.unc.edu/docs/pilotprogram/NC_TraCS_Stakeholder_Engagement_2K_Voucher_RFA.pdf
About NC TraCS
The NC TraCS Institute is home to the Clinical and Translational Science Awards (CTSA) program at UNC. The CTSA program is led by the NIH's National Center for Advancing Translational Sciences (NCATS).
NC TraCS combines the research strengths, resources and opportunities of UNC, its new partner RTI International (RTI) and planning partner North Carolina Agricultural and Technical State University (N.C. A&T) to accelerate clinical and translational research from health science discovery to dissemination to patients and communities.
For more information about NC TraCS services and programs, please visit http://tracs.unc.edu/ or contact our TraCS Central Coordinator at nctracs@unc.edu, 919-966-6022, or 1-866-705-4931.