Related Stories
Researchers from Child and Adolescent Health Services Program receive award from international conference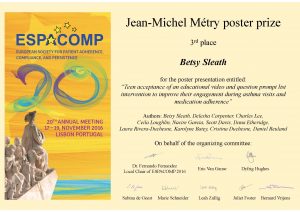 Sheps Center researchers, along with two adolescent participants and their parents, were part of a team recognized for their work at the European Society for Patient Adherence, Compliance and Persistence (ESPACOMP) in Lisbon, Portugal in November.
The team won third place for their poster entitled, "Teen acceptance of an educational video and question prompt list intervention to improve their engagement during asthma visits and medication adherence," which is part of a Patient-Centered Outcomes Research Initiative (PCORI) grant led by Betsy Sleath, PhD and based at the Sheps Center.
The research team included Betsy Sleath, PhD, R.PH,  Delesha Carpenter, PhD,  Charles Lee, Ceila Loughlin, Nacire Garcia, MS,  Scott Davis, Dana Etheridge, Laura Rivera-Duchesne, Karolyne Batey, Cristina Duchesne and Daniel Reuland, MD. Sleath, Carpenter, Garcia and Reuland are all part of the Child and Adolescent Health Services Program at the Sheps Center, and the other authors include teens and their parents who are part of the grant.
The poster stems from a 3-year, $1.9 million grant to encourage teens with asthma to actively participate in their medical visits so that they can manage their conditions. The study is testing question prompts in focus groups with teens and their parents, and will develop a short educational video to emphasize the importance of teens engaging in meaningful conversation during their visits. Go here to read more about the overall study.