Related Stories
Sheps researchers partnering on PCORI Engagement Award to build capacity for patient-centered outcomes research within community behavioral health organizations serving Latinos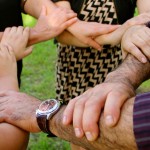 Luke Smith, MD, Executive Director of El Futuro, Inc,  recently received a Eugene Washington PCORI Engagement Award, Tools for Engagement – Building capacity for PCOR within community behavioral health organizations serving Latinos (PUENTES), from the Patient Centered Outcomes Research Institute, in partnership with co-principal investigators Monica Pérez Jolles PhD and Kathleen C Thomas, PhD, MPH at the UNC Cecil G. Sheps Center for Health Services Research. The objective of this project is to design a toolkit that community behavioral health organizations serving Latinos can use to promote and engage in sustainable patient-centered outcomes research (PCOR). Through this effort, more organizations serving the Latino community will be able to participate in PCOR. This, in turn, will directly promote Latino patient involvement in research, which is now lacking, grow the knowledge base, and enhance delivered to the Latino community.
Latino children and adults with mental health needs are 50 to 60 percent less likely to use mental health services as white non-Latinos. Latino families are more likely to report problems getting services, lack of a usual source of care and a medical home, inadequacy of time spent with the clinician and dissatisfaction with the care they receive. Unmet mental health needs, in turn, are associated with poor outcomes over the lifespan, both economic and social. Developing strategies that support Latino stakeholder engagement to guide research that can overcome these disparities is a major national health priority central to PCORI's mission and mandate.
There is no model process in place for responding to research ideas in a way that honors, respects and empowers patients, preserves the mission of community behavioral health organizations serving Latinos, and furthers the interests of the collaborating research entity. Interested stakeholders lack the capacity to engage in PCOR. There is a critical need to build a strategy for research engagement among provider organizations that serve the Latino community.  Such a strategy would offer meaningful insights to guide the research so that it can embrace patient perspectives while fostering sustainable research partnerships.
This project builds on our successful partnership, Padres Efectivos (Parent Activation): Skills Latina Mothers Use to Get Healthcare for Their Children a PCORI-funded randomized pragmatic trial to assess the effectiveness of MEPREPA, a group psycho-educational intervention to enhance parent activation and child mental health service use compared to a parent-support control group.
The PUENTES project is unique because it shifts the emphasis from one that has traditionally been primarily driven by funders and researchers to a model that begins with patients and a community agency. Developed with patient and community organization input, the PCOR toolkit will facilitate sustainable research for the Latino community by offering practical guidance. Importantly, providing standards and concrete strategies for engagement between community behavioral health organizations and their patients and the research community can move the field toward efficient engagement, thereby reducing the cost burden of engagement for these organizations and, in the long run, increasing the return on investment by funders such as PCORI. Through the proposed work, community behavioral health organizations serving the Latino community will be activated to engage in patient centered outcomes research.
PCORI is an independent, non-profit organization authorized by Congress in 2010 to fund comparative effectiveness research that will provide patients, their caregivers, and clinicians with the evidence needed to make better-informed health and healthcare decisions. PCORI is committed to seeking input from a broad range of stakeholders to guide its work. Find out more about the organization at www.pcori.org.