Related Stories
Thomas recognized for her commitment to mentorship with John M. Eisenberg Excellence Award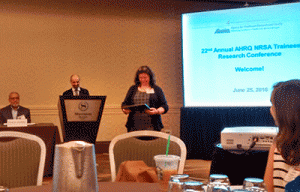 Kathleen Thomas has received the John M. Eisenberg Excellence in Mentorship Award from the Agency for Healthcare Research and Quality.
The award was created to honor the legacy of Dr. John Eisenberg and has been presented annually since 2001 to an outstanding faculty member in a National Research and Service Award (NRSA) institutional training program, supported by AHRQ. Thomas received the award at the AcademyHealth conference in June.
"Receiving the Eisenberg mentoring award was just awesome," said Thomas, senior research fellow in the Program on Mental Health Services Research at the Cecil G. Sheps Center for Health Services Research and adjunct associate professor in Health Policy and Management at the Gillings School of Global Public Health. "Mentees are so important to my work – they push me to broaden my perspective, teach me how to think differently about our work, and about myself. I'm grateful for their contributions."
Thomas was nominated by three of her mentees in the National Research Service Award postdoctoral program at Sheps.  One of the fellows, Monica Perez Jolles said Thomas had opened doors for professional development, facilitated grant opportunities to promote independent research and provided networking opportunities to expose her mentees to the national public health agenda. Jolles also said that Thomas is keenly aware of the need to promote diversity among junior health services researchers to reflect the characteristics of the communities they care about.
"Dr. Thomas has fostered the inclusion of my personal talents and interests, many influenced by my background as an immigrant Latina, in the development of my postdoctoral fellowship and future research agenda," said Jolles. "I have increased my academic standing, research competence nd personal growth given the opportunities facilitated by Dr. Thomas. I cannot think of anyone more deserving of this award."
Thomas and Jolles are currently collaborating with El Futuro, Inc. on a PCORI-funded Engagement Award to design a toolkit that community behavioral health organizations serving Latinos can use to promote and engage in sustainable patient-centered outcomes research (PCOR). Jolles will begin a tenure-track position at the University of Southern California this fall.