Carolina Health Workforce Research Center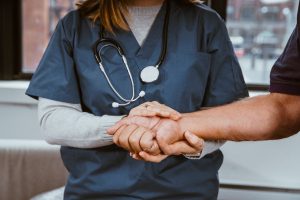 If the health care system in the United States is to transition from volume to value, we must educate, deploy and regulate the workforce in a way that delivers value. The Carolina Health Workforce Research Center (CHWRC) seeks to address this challenge by conducting and disseminating timely, policy-relevant research on emerging health workforce topics related to defining and measuring Value in the health workforce. Our current projects and past work focus on Graduate Medical Education, Nursing, Workforce Data and Modeling and Behavioral Health and Integrated Care. Learn more about current projects here, and past projects here.
The Center is directed by Erin Fraher, PhD, MPP who also directs the Program for Health Workforce Research and Policy at the Cecil G. Sheps Center for Health Services Research, UNC-Chapel Hill.
This website is supported by the Health Resources and Services Administration (HRSA) of the U.S. Department of Health and Human Services (HHS) as part of an award totaling $525,465.00, with no financing from non-governmental sources. The contents are those of the authors and do not necessarily represent the official views of, nor an endorsement by, HRSA, HHS, or the U.S. Government.