Carolina Health Workforce Research Center
---
We collect, analyze, and disseminate data and research to develop, train, and sustain the workforce for health. 
---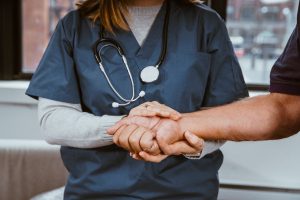 Our mission is to conduct and disseminate timely, policy-relevant research on emerging health workforce topics. Since 2013, the Carolina Health Workforce Research Center (CHWRC) has produced a substantial body of research, data, and policy analyses in response to the needs of the National Center for Health Workforce Analysis (NCHWA), the Bureau of Health Workforce (BHW), the Health Resources and Services Administration (HRSA), and other workforce stakeholders. As the health care system evolves, so do workforce development and training programs.
Our Center is committed to providing the evidence needed to inform investments in workforce training and to closely monitoring data and research gaps facing policy makers in their efforts to produce a well-trained, well-distributed, diverse, and high-quality workforce for health. We intentionally use the term "workforce for health" instead of "health workforce" to emphasize that the CHWRC focuses on research that informs policy makers' efforts to develop, train and sustain the workforce needed to support multiple dimensions of health: the health of patients and populations, the health of communities, the health of our care delivery infrastructure, and the health and wellbeing of the health workforce themselves. Learn more about current projects here, and past projects here.
Our Center's studies focus on increasing the understanding of:
influence of the evolving health system delivery and payment models on health workforce composition and distribution,
configuration and training of interprofessional teams in primary care; and
organizational, professional, and societal factors impacting how we develop, train, and sustain the health workforce.
Our work draws on new data sources, advances analytic methods, develops data visualizations, and trains the next generation of health workforce researchers. We develop data visualizations, policy briefs, manuscripts, webinars,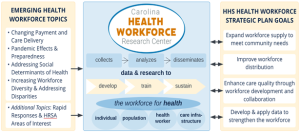 presentations, and other products to disseminate data and research to federal agencies, national and state policy bodies, practitioners, healthcare consumers, employers, insurers, educators, and state and local agencies.
The Center is directed by Erin Fraher, PhD, MPP who also directs the Program for Health Workforce Research and Policy at the Cecil G. Sheps Center for Health Services Research, UNC-Chapel Hill.
This website is supported by the Health Resources and Services Administration (HRSA) of the U.S. Department of Health and Human Services (HHS) under Cooperative Agreement for a Regional Center for Health Workforce Studies #U81HP26495. This information or content and conclusions are those of the author and should not be construed as the official position or policy of, nor should any endorsements be inferred by HRSA, HHS or the U.S. Government.