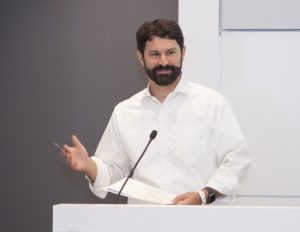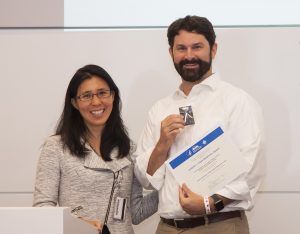 At this June's annual 2018 EPC AHRQ Meeting, the Agency for Healthcare Research and Quality (AHRQ) presented the Dr. Robert Lewis Kane Memorial Award to the RTI-UNC EPC for its 2017 Vision Screening in Children report.
Daniel Jonas, MD, MPH, UNC Co-Director of the EPC, was the report's lead author and accepted the award on the review team's behalf.
"I want to emphasize that this award is to the RTI-UNC EPC because…it takes a village to write a concise report," Dr. Jonas commented. "That includes the authors of the report as well as everyone acknowledged in the report and everyone in the EPC who influences the process."
AHRQ established the award last year in memory of Dr. Robert Kane and his many contributions and continuous breadth of vision for the EPC Program. This award will be presented yearly to the Center with a published report most exemplary of Dr. Kane's priorities: clarity, conciseness, and brevity.
The award-winning report describes a systematic review of the evidence on screening for and treatment of amblyopia, its risk factors, and refractive error in children ages 6 months to 5 years. Its findings informed a 2017 recommendation statement by the U.S. Preventive Services Task Force (USPSTF).