Related Stories
Access to Mental Health Care Has Increased Under the Affordable Care Act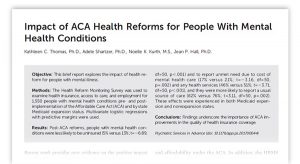 ARLINGTON, Va., Nov. 15, 2017 – People with mental illness reported that they were more likely to be insured and thus better able to access health and mental health services following implementation of the Affordable Care Act (ACA), according to a new study published online today in Psychiatric Services in Advance. Effects were seen in states that had expanded Medicaid and in states that did not.
Kathleen C. Thomas, Ph.D., with the University of North Carolina, Chapel Hill, along with co-authors from the University of Kansas and the Urban Institute, examined the impact of health reform for people with mental illness. They used the Health Reform Monitoring Survey to examine health insurance, access to care, and employment for more than 1,500 people with mental health conditions pre- and post-implementation of ACA. They compared survey results from 2013, before ACA implementation (health insurance marketplaces in 2013 and federal support for state Medicaid expansion in 2014), to a similar sample in 2016, after implementation of the ACA.
After implementation, people with mental health conditions were more likely to be insured (5 percent uninsured versus 13 percent). They were also less likely to report the cost of mental health care as the reason for not getting needed care (17 percent versus 21 percent). They were also more likely to report a having usual source of care (82 percent versus 76 percent).  These effects were experienced in states with Medicaid expansion and those without. The increased access to care in non-expansion states may have resulted from improved coverage of mental health services and services to help with daily living skills (such as occupational and physical therapy) under the ACA, the authors suggest.
The authors conclude that the findings "highlight important improvements in health insurance coverage and access to care achieved through ACA reforms for people with mental health conditions." The gains in both non-expansion and expansion states "underscores the importance of improvements in the quality of health insurance coverage, such as mental health parity."
The American Psychiatric Association is the oldest medical association in the country founded in 1844. The APA is also the largest psychiatric association in the world with more than 37,000 physician members specializing in the diagnosis, treatment, prevention and research of mental illnesses. APA's vision is to ensure access to quality psychiatric diagnosis and treatment. For more information please visit www.psychiatry.org.
For Information Contact:
APA, Psychiatric Services
— Glenn O'Neal, 703-907-8640, press@psych.org
— Erin Connors, 703-907-8562, econnors@psych.org
UNC Chapel Hill
— Audrey Smith, 919-962-8596, mediarelations@unc.edu
Article Citation:
Thomas KC, Shartzer A, Kurth NK, Hall JP. Impact of ACA Health Reforms for People With Mental Health Conditions. Psychiatric Services in Advance. 2017 (epub ahead of print). https://doi.org/10.1176/appi.ps.201700044
Related News:
https://www.northcarolinahealthnews.org/2017/11/27/aca-made-possible-mental-health-problems-get-care/
http://news.ku.edu/2017/11/21/study-shows-people-mental-health-conditions-more-likely-have-coverage-access-care-under