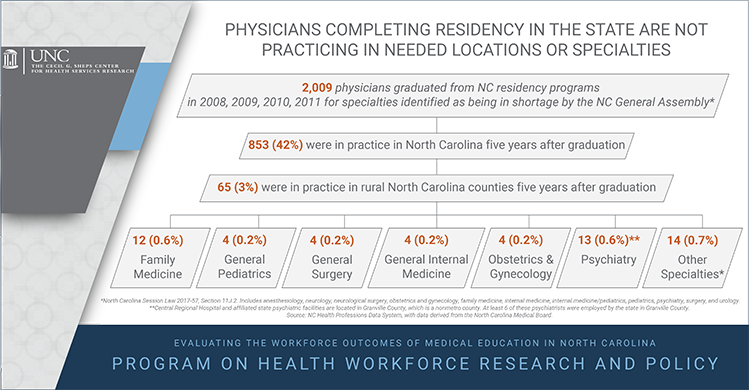 North Carolina Session Law 2017-57, Section 11J.2, the Current Operations Appropriations Act of 2017, directed the North Carolina Department of Health and Human Services (DHHS) and The University of North Carolina (UNC) to assess the degree to which physician training programs in North Carolina meet the healthcare needs of North Carolina's citizens. The Program on Health Workforce Research and Policy conducted the analysis and reported findings to the Joint Legislative Oversight Committee on Health and Human Services and the Joint Legislative Education Oversight Committee on February 12, 2018.
Key findings:
While some GME programs are producing the workforce needed to meet population health needs, many are not. Of graduates who completed training between 2008-2011, 42% remained in NC and only 3% were in practice in rural North Carolina as of 2016.
The majority (61.5%) of physicians in active practice in North Carolina in 2016 completed medical school outside the state.
North Carolina medical schools' contribution to the state's physician workforce has declined from 31.6% in 1990 to 23.4% in 2016. During that same period the percent of the physician workforce made up of physicians who completed medical school outside the US nearly doubled from 7.9% to 15.1% of the workforce.
Access the reports and presentation:
Workforce Outcomes of Medical Students featured in New England Journal of Medicine
Since the 1990s, the Program on Health Workforce Research and Policy, in collaboration with the NC AHEC, has tracked the workforce outcomes of medical students five years after graduation. These data were featured in John Iglehart's February 1, 2018 NEJM article on "The challenging quest to improve rural health care." The article notes that five years after graduation in 2010, only 67 (16%) of 415 graduates from NC medical schools were primary care physicians in North Carolina and only 11 (3%) had taken up practice in rural areas of the state.