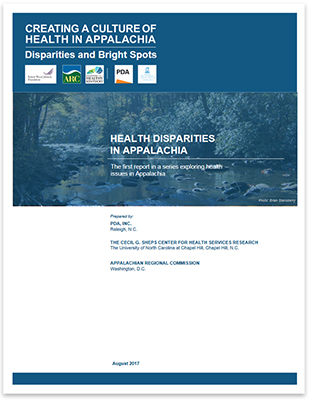 "Creating a Culture of Health in Appalachia: Disparities and Bright Spots" is an innovative research initiative that aims to identify factors that support a culture of health in Appalachian communities.
"Health Disparities in Appalachia" is the first report in a series exploring health issues in Appalachia. It measures population health and documents disparities in health outcomes within the Appalachian Region and compared to the United States as a whole.
This initiative is sponsored by the Robert Wood Johnson Foundation (RWJF) and the Appalachian Regional Commission (ARC), and is administered by the Foundation for a Healthy Kentucky. The Sheps Center is performing this work in collaboration with PDA, Inc.
Sheps Staff: Mark Holmes, Randy Randolph, Sharita Thomas
Sheps Contact: Mark Holmes, 919-966-7100, mark_holmes@unc.edu
Press contact: Wendy Wasserman, ARC Communications Director, 202-884-7771
Report:
Health Disparities in Appalachia (August 2017)
Main Project Page:
Creating a Culture of Health in Appalachia: Disparities and Bright Spots