August 2017
Erin Fraher PhD, MPP; Erica Richman, PhD, MSW; Evan Galloway, MPS; Andy Knapton, MSc
Overview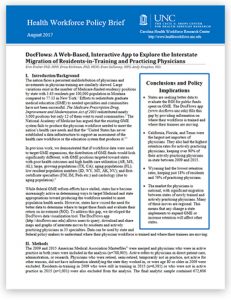 The DocFlows App allows users to query, download and share maps and graphs of interstate moves by residents and actively practicing physicians in 35 specialties. Data can be used by state and federal policy makers to understand where their physician workforce is trained and where their trainees are moving. This policy brief describes the data and methods used to create DocFlows, and discusses results and key findings
Key Findings and Policy Implications
States are seeking better data to evaluate the ROI for public funds spent on GME. The DocFlows App fills this gap by providing information on where their workforce is trained and where their trainees are moving.
Thirteen percent (n=87,829) of actively practicing physicians and 55% (n=64,120) of residents in 2009 had moved to another state in 2015.
California, Florida, and Texas were the largest net importers of physicians. They also had the highest retention rates for actively practicing physicians, keeping over 90% of their actively practicing physicians in-state between 2009 and 2015.
Wyoming had the lowest retention rates, keeping just 18% of residents and 76% of practicing physicians.
The market for physicians is national, with significant migration between states of newly trained and actively practicing physicians. Many of these moves are regional. This means that any change a state implements to expand GME or increase retention will affect other states.
Suggested Citation
Fraher E, Richman E, Galloway E, Knapton A. DocFlows: A Web-Based, Interactive App to Explore the Interstate Migration of Residents-in-Training and Practicing Physicians. Carolina Health Workforce Research Center, Program on Health Workforce Research and Policy, Cecil G. Sheps Center for Health Services Research. August 2017