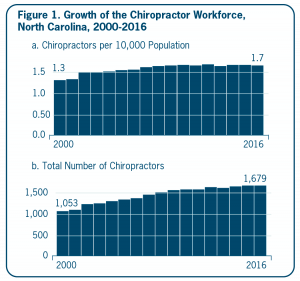 The 2017 State Appropriations Act directed the Board of Governors (BOG) of the University of North Carolina (UNC) to study the feasibility of establishing a school of chiropractic medicine at Winston-Salem State University (WSSU). The Program on Health Workforce Research and Policy conducted a study of the supply and characteristics of chiropractors in North Carolina and the feasibility of a new program at WSSU. The report noted that it is difficult to determine whether NC has a surplus or a shortage of chiropractors because most of the health conditions they treat can also be treated by other clinicians, including physicians, physical therapists, massage therapists, or alternative medicine providers. While some interviewees suggested that demand might increase if patients seek natural pain remedies due to greater awareness of the opioid epidemic, data that support this claim are not available. National data indicate that the patients who seek chiropractic care tend to have higher incomes and are more likely to be white. Few chiropractors in NC identify as underrepresented minorities and it is unclear whether locating a school at a historically Black university would increase awareness of the profession among students from underrepresented backgrounds. All 17 chiropractic schools in the U.S. are located at private institutions. A prior attempt to start a chiropractic school at a public university, Florida State, failed in 2005 due to political controversy.
____________
____________
Date: January 2018
Authors: Julie C. Spero, MSPH; Zahabiya Petiwala, MBA
Suggested citation: Spero JC, Petiwala Z. The Chiropractic Workforce In North Carolina and a Potential
School of Chiropractic Medicine at Winston-Salem State University. Program on Health Workforce  Research and Policy, The Cecil G. Sheps Center for Health Services Research, The University of North  Carolina at Chapel Hill. January 2018.