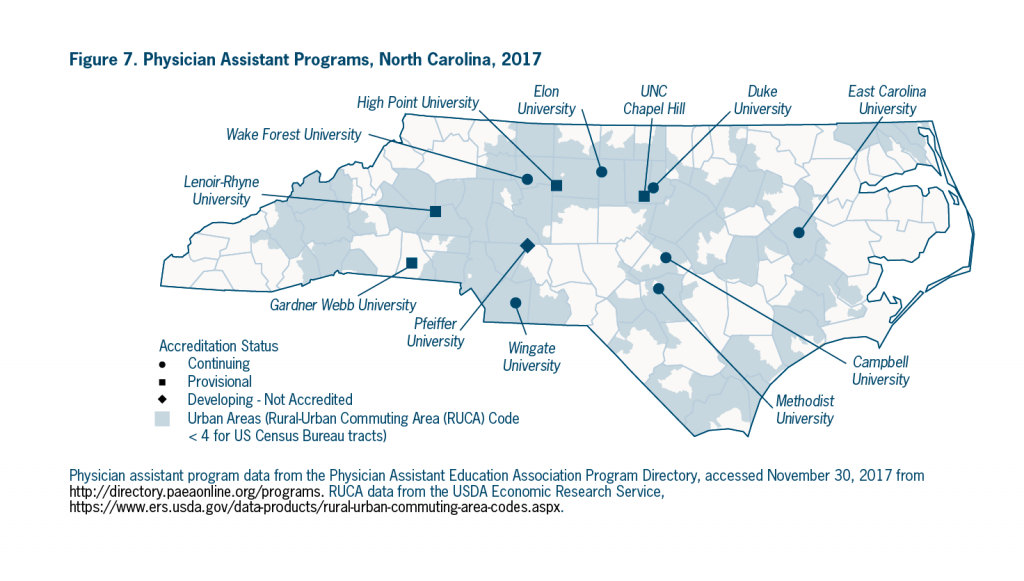 The 2017 State Appropriations Act directed the Board of Governors (BOG) of the University of North Carolina (UNC) to study the feasibility of establishing a physician assistant (PA) program at Winston-Salem State University (WSSU). The Program on Health Workforce Research and Policy conducted a study of PA supply and demand in North Carolina and the feasibility of a new program at WSSU. The case for a new PA program at WSSU is unclear. On one hand, the demand for PAs on the employer side is strong and the demand for students is such that, despite the growth in seats at training programs, the number of applicants per seat has grown. At the same time, PA programs have expanded rapidly in the state and in the country over the past six years. A key challenge facing a new PA program is the lack of available preceptors in the state to train learners. A PA program at WSSU, a historically Black university, could potentially increase the diversity of the PA workforce in North Carolina if graduates remain in-state. However, it is unclear whether PA students would reflect the diversity of the rest of WSSU's student body. Currently, only two PA programs in the state are located at public universities with in-state tuition, and a program at WSSU may appeal to non-minority students.
____________         
____________       
Date: January 2018
Authors: Julie C. Spero, MSPH, Zahabiya Petiwala, MBA

Suggested citation: Spero JC, Petiwala Z. The Physician Assistant Workforce In North Carolina and a  Potential Physician Assistant Program at Winston-Salem State University. Program on Health Workforce  Research and Policy, The Cecil G. Sheps Center for Health Services Research, The University of North  Carolina at Chapel Hill. January 2018.