Date/Time
Date(s) - 10/12/2020
3:00 pm - 5:00 pm
Category(ies)
Fall 2020 Seminar Series
Structural Racism and Career Development
The AHRQ NRSA seminar series is held every Monday of the academic calendar year and is primarily for the pre- and postdoctoral trainees in the AHRQ NRSA fellowship at the Sheps Center. The seminars are made up of a combination of trainees presenting their work in progress and guest speakers presenting on a topic relevant to the theme of each semester. While this seminar is for the trainees, they are open to anybody who would like to attend.
Presenters
Leslie Adams, PhD: Mistrust and barriers to help-seeking for Black men

Dr. Adams is an Assistant Professor, Mental Health at Johns Hopkins Bloomberg School of Public Health and is a former AHRQ/NRSA trainee. Dr. Adams' research uses latent variable methods (e.g. factor analyses, latent class/profile analysis, etc.) to examine relationships between discrimination, psychiatric disorders, and health services utilization across sociodemographic groups. Dr. Adams also uses mixed methods and community-engaged study designs to explore mental health disparities in marginalized populations.
---
Josh Herb, MD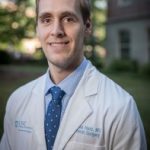 Dr. Herb is a first year AHRQ postdoctoral research fellow and a fourth-year general surgery resident with the Department of Surgery. Prior to UNC, he completed both his Bachelor's degree in Economics and Medical degree at the University of Virginia. He plans to pursue a surgical oncology fellowship at the completion of his residency. He hopes to pursue a research career in cancer health services focusing on surgical outcomes, practice patterns and inequities. Ultimately, he wants to help develop policy and technology-based approaches to address cancer care disparities. His current research focuses on the rural-urban disparity in surgical care of non-small cell lung cancer. In his free time, he enjoys traveling with his wife, trying new restaurants, and watching movies.
Register for the webinar series here.