Date/Time
Date(s) - 12/09/2021
12:00 pm - 1:00 pm
Category(ies)
Health Equity Speaker Series
Moving from Intention to Impact: Health Equity & Diversity, Equity, and Inclusion (DEI)
VIRTUAL SEMINAR
Thursday, December 9, 2021
12:00 pm – 1:00 pm ET
Registration required: click here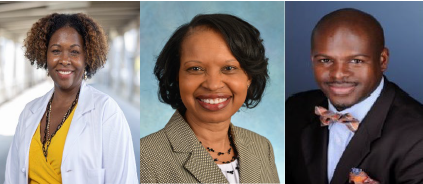 Dr. Crystal Cené, MD, MPH, FAHA
System Executive Director for Health Equity, UNC Health
Dr. Cené is an accomplished, nationally and internationally, recognized health services and health disparities researcher. Her work has focused on the contribution of social determinates of risk and outcomes – particularly race, ethnicity, and social networks – to health. Trained in implementation science, her research focuses on implementing and evaluating interventions to enhance patient- and family-centered care and interventions to reduce disparities in care and outcomes by race and socio-economic status.
Aleyah Pryor-Pankey
System Executive Director for Diversity, Equity, and Inclusion, UNC Health
Aleyah's 18-year tenure at UNC Health includes leading the inaugural Office of Diversity, Equity, and Inclusion. Since July 2016, Aleyah and her team have focused on programs, goals, and initiatives designed to create a welcoming, respectful, equitable, and inclusive environment for all people; our patients, teammates, visitors, students, and volunteers.
E. Nate Thomas III, PhD
Vice Dean for Diversity, Equity, and Inclusion, UNC School of Medicine
Dr. Thomas has more than 25 years of experience working with leaders in secondary and higher education, and is especially skilled at developing and implementing diversity, mentoring, and leadership initiatives.
Learn More about Us
• UNC SOM Office of Diversity, Equity, and Inclusion Annual Report
• Listening to Coworkers: A Health System Assessment to Understand and Address Workplace Structural Inequities