Related Stories
New Research Provides County-Level ACA Eligibility Data, Highlights Enrollment Gaps
Rural Areas Continue to Face Lower ACA Enrollment Rates than Urban North Carolina
A first-of-its-kind dashboard released this month spotlights county-level Affordable Care Act (ACA) eligibility and enrollment estimates along with outreach and enrollment event locations across North Carolina. The Cecil G. Sheps Center for Health Services Research at UNC-Chapel Hill created the tool to gain a better understanding of how health insurance enrollment assisters can improve participation in the Affordable Care Act Marketplace by understanding where enrollment lags.
While North Carolina has been a leader in Marketplace enrollment, inequalities persist across the state. Rural areas, for example, continue to lag urban areas in enrollment. Fortunately, there is free assistance available in every county, provided by enrollment assisters like those in the NC Navigator Consortium, which has partnered with researchers to provide data and expert input. Communities with low enrollment despite high eligibility rates, particularly rural areas, would benefit from heightened levels of outreach and enrollment events.
Enrollment assisters and their community partners can view this data as a map, chart, or plot to compare eligibility and enrollment rates. This dashboard, launched to coincide with the beginning of Open Enrollment, is part of a larger study by researchers at the Sheps Center to understand how North Carolinians utilize health insurance. The project is funded by the Kate B. Reynolds Charitable Trust to help increase equitable access to affordable, quality health care.
"If we want to address inequities in access to care in our state, it's critical that we be strategic about where resources are allocated. The map developed by the Sheps Center will help navigators, non-profit organizations, and funders like the Trust prioritize connection with communities that have a high percentage of individuals who are eligible for but unenrolled in health coverage. We recognize the huge value of in-person assistance and look forward to continuing our support for outreach and enrollment efforts."   Madison Allen, Senior Program Officer, Kate B. Reynolds Charitable Trust.
One barrier to reaching residents who could benefit from ACA health insurance is identifying regions that have high rates of unenrolled eligible individuals. There is no official data on the percentage of a community that is eligible for enrollment through the marketplace. This work aims to fill that gap.
"Talking with stakeholders around the state, there was a lot of excitement about making these data available to help them enroll as many North Carolinians as possible", said Susie Gurzenda, manager of the project. "We have been lucky to engage with multiple enrollment assister programs to better understand their needs and designed the dashboard to be reflective of them."
This dashboard is the only known publicly available resource that presents county-level estimates of eligibility rates. The research team used publicly available demographic data to estimate the percentage of the population that is eligible to enroll in the marketplace. This work builds on research from Mark Holmes, PhD, Professor in the Gillings School of Global Public Health and Director of the Sheps Center, that estimated the size and location of the eligible population in North Carolina during the first year of open enrollment in 2013.
In the absence of information on eligibility, assister event location planning may rely on less representative information such as the percentage of a county's entire population that is enrolled rather than the percentage of eligible individuals enrolled. Because many rural areas have higher eligibility rates, using population to calculate enrollment rate, rather than number of eligible people, may mask the disparity between rural and urban enrollment rates. This could contribute to insufficient enrollment assistance in many areas that need it, particularly rural counties with disproportionately high rates of eligibility. Figure 4 of the dashboard demonstrates that many rural counties have high rates of eligibility, yet low rates of enrollment, meaning larger proportions of these counties' populations are eligible yet unenrolled compared to many urban and suburban counties.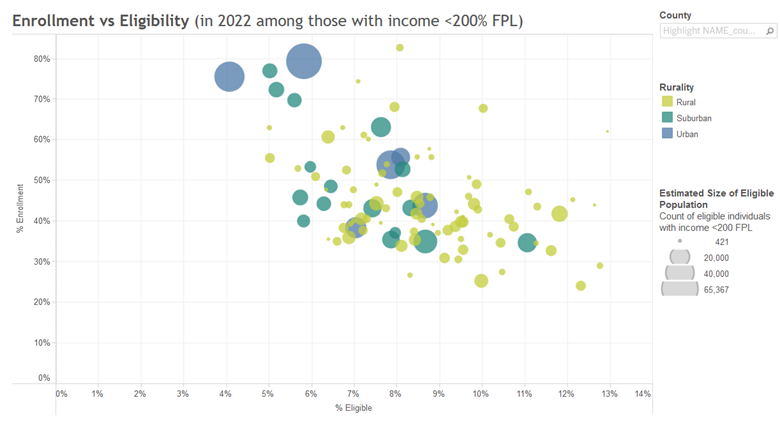 "Rurality of the community is just the beginning of what Navigators and enrollment assisters look at when they decide where to host assistance events. They are specifically targeting historically marginalized groups and those who have experienced structural barriers to enrollment."  Mark Van Arnam, Director of the NC Navigator Consortium.
Researchers plan to explore the multiple factors leading to enrollment barriers.  For example, their data suggests that higher-income people in rural and urban communities enroll at similar percentages, but at lower incomes, people in urban communities are far more likely to enroll than people rural communities.  This suggests a nuance to who is enrolling that could lead to higher enrollment rates.