NC Hospital Discharge Data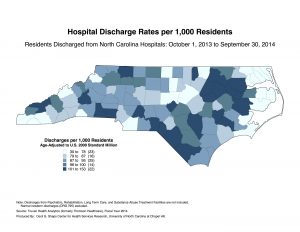 The Cecil G. Sheps Center for Health Services Research is under contract with the Division of Health Service Regulation (DHSR) to maintain, for use in research and state health planning, the NC Hospital Discharge Data (Inpatient, Ambulatory Surgery/Outpatient and Emergency Department Databases) collected by an approved state data processor. Yearly updates keep the research database current.
HCUPnet Data Access
Many basic NC hospital discharge statistics are now available through a query tool on HCUPnet. HCUPnet data are publicly available at no charge.